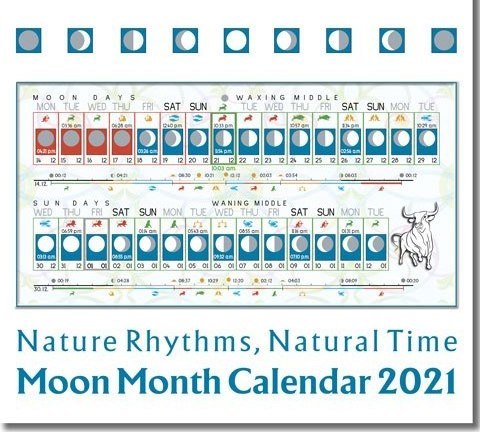 The MOON MONTH CALENDAR 2021, (für den Deutsche Text dazu, siehe bitte unten) 13 moon months for one year in a 14-page wall calendar format, 12 1/4 x 12 1/4 inches, with a small accompanying booklet with several pages explaining the basic compotents of natural time. The calendar has spiral binding and a loop for hanging up, and comes in a protective sheath. The 2021 edition may still be ordered with a small discount from the new price of 15,90 € (in Feb. 14,90 €, in March 13,90 €, and so on). There are two different editions, one in Englisch and one in German language. The calendar available in the English language is for the Universal Time Zone, UT also named the Greenwich Mean Time zone, GMT. The German language edition is for the MET, (Middle Europe Time Zone); the issue für 2020 was the 10th anniversary edition! Since these calendars are printed on demand in minimum lots of 20, please inquire when you are interested to order a 2021 edition; so I may inform you when they can be delivered.

For people who love the Earth, the Moon and nature and want to live their lives based on these natural rhythms, who desire to live with the phases and cycles of the natural day, moon month and year seasons. In this calendar the moon cycles, which are the natural moon months, are in the forefront, with their two waxing and waning halves, (the fortnights or natural weeks), and with the 8 moon phases. The hours, natural divisions and phases of the day are shown in time lines for the first day of each of the waxing and waning halves of each moon month. As well the seasons of winter, spring, fall and summer and their thirds (which are traditionally called the star sign phases), are emphasized with color codingn of the corresponding elements for these.
What most people do not realise is that the star sign phases are corresponding exactly astronomically with the beginning of the seasons and their thirds. For example the beginning of winter is the same exact beginning date and time of the beginning of the Capricorn star sign phase. The beginning of spring is the exact beginning date and time of the beginning of the Airies star sign phase, and so on.
With an emphasis on the natural moon months, in 2021 and in practically all years this makes 13 moon months. Each moon month in the calendar has an accompanying text about the particular times of day, which moon phase and what days in a natural month are the strongest energies for the current yearlyt seasonal phase.
The calendar helps humans to come into a more natural pattern of life, as the typically used Gregorian Calendar, although good for a standardised and commonly used global method of time measurement, it is mostly out of sync with the natural and more varying rhythms for life. The Moon Month Calendar does include both of these sets of time measurement. What is clearly and interestingly noticeable with the natural rhythms of life, of the natural year, moon month and day is that they each have a waxing and waning half. In the waxing halves the energies are increasing, best directed to outer exchanges and activities, higher output of energies. In the waning halves of the year, moon month and days, the energies are more internally present, more naturally directed to inner processes of attention, recognition, processing, healing and sorting, understanding and insights, meditation and prayer. With these waxing and waning halves qualities of each natural year, month and day, there is fiven by the creator and by nature A NATURAL SLOW LIFE and not such an exaggerated path of achievement and productivity as humans have been increasingly following the last few hundred years. The human life patterns in which increasing or same achievement, productivity is followed or expected to continue throughout most of each day, month and year are contributing factors to people being disharmonious within themselves as well as being in disharmony with each other, nature and life itself, creating conditions like exhaustion, burn out, illness on all levels - physical as well as emotional or mental - lack of awareness, interpersonal and social as well as environmental disconnection. Therefore, a calendar and a life based on natural rhythms also contributes to HUMAN SUSTAINABILITY!

The calendar has an attractive design, has easy to understand graphics and includes three pages of explanatory texts. For further information, it is possible to receive an explanatory broschure through e-mail.
Work on the Moon Month Calendar for 2021 is finished and the calendar may be ordered.
If you have any questions about the calendar, if you are interested to purchase one, please call to Tel./AM (0)9543 - 41 88 54 or send me an E-Mail at cosmaterraccc@posteo.de so I can answer your questions and notify you when the calenders can be delivered.

ORDERING & PAYMENT INFORMATION
If you want to order a calendar, it is possible to do so through cosma terra ccc by calling Tel./AM (0)9543 - 41 88 54 or by sending an E-Mail to cosmaterraccc@posteo.de. The calenders are currently being printed in small batches on demand, so that when printed calendars are available for delivery, then I can notify you, and request your postal delivery address and a prepayment. Payment can be made either through paypal or through a bank account transfer as listed below.
For the 2021 edition (for any orders st reduced rate for remnant copies of the 2020 German MET time zone edition, pelase inquire separately):
The new price for the Moon Month Calendar 2021 was 15,90 €, excluding Value Added Tax (VAT) due to the small business regulartion in BRD.
For delivery by post the cost is + 2.70 € in Germany, (up to 2 calendars mailed to the same address in FRG) so the price for postage within Germany of 1 - 2 calenders is then + 2,70 €.
For postal delivery to other European Community* countries for 1- 2 calenders, please inquire first because the postage prices are changing and the entire postal situation, especially for to other countries than Germany, is different due to the current virus-situation..
*The European Community member countries are:
Belgium, Germany, France, Italy, Luxembourg, Netherlands, Denmark, Ireland, Greece, Portugal, Spain
For postage costs to the United Kingdom or anywhere else, please inquire.
Ordering Costs Examples:
For one calendar the cost is 15.90 € + postage within Germany is 1.55 € = 17.45 €
For two calendars (2 x 15.90 €) is 31.80 € + combined postage for delivery to the same address in Germany is 2,70 € = 34,50 €.
For one calender the new price cost is 15,90 € + postage to any other EC country besides Germany must be additionally considered depending on the current postal situation.

For orders, postal costs for the Moon Month Calendar to any other countries outside of the EC, please inquire individually!
For bank transfer, payment can be made to:


Carolyn Czichos - cosma terra
"Mondmonat-Kalender 2021"
Sparkasse Bamberg
IBAN: DE07 7705 0000 0300 4210 70
BIC: BYLADEM1SKB

For payment transfer through PayPal, payment can be made to: PayPal.Me/cosmaterraccc
Carolyn C. Czichos – cosma terra ccc, German Tax Nr. 207/209/61416.
Value added tax not due to the small business regulation of Germany.
Many thanks to our graphic layout and printing angel for many years for the Moon Month Calendar, since 2010, Mr. Klaus Sanden, SK Verlag Klaus Sanden, Lange Straße 21, 96047 Bamberg, Telephone (0)951 - 980 90 50, Fax 0951 - 980 95 55. E-Mail: sk.verlag@t-online.de.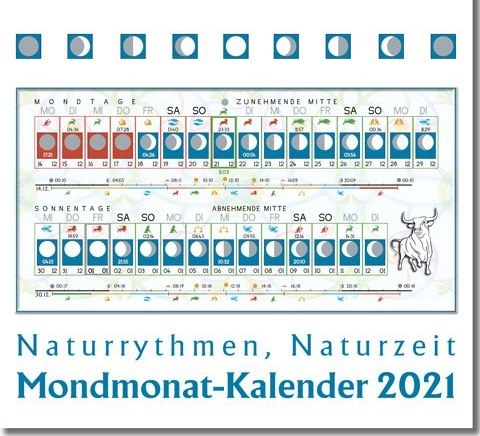 Die MONDMONAT-KALENDER 2021, 13 Mondzyklen, Mondmonate eines Jahres im 14-seitigen Wandkalenderformat, 31 x 31 cm, 180 g. Papier Matt, mit eine mehrseitigen Beiheft mit Erklärungstexte über Hautmerkmale der Naturzeit, mit Spiralbindung m. Daumenloch + Aufhänger, im Schützbeutel. Es gibt zwei Ausgaben von den Kalender für 2021. Die Angegebene Zeiten für die Deutsche Ausgabe sind für die MET (Mittle Europaische Zeitzone); der Deutsche Ausgabe für 2020 war der 10-Jahre Jubiläumsausgabe! Für das Englischer Ausgabe sind der Zeitangaben für das Universal Time Zone UT, auch Greenwich Mean Time Zone, GMT genannt. Attraktiven Design, mit leicht verständlichen Graphiken.


Die Ausgabe für 2021 kostet Neupreis 15,90 €/Stück und ist weiterhin bestellbar mit kleine Ermässigung (z.B. in Febr. für 14,90 €/Stück, in März für 13,90 e/Stück, u.s.w.). Der Kalender wird in kleine Anzahl von ca. 20 Stück auf Nachfrage gedruckt, sodass bei eine Bestellung kann Auskunft erteilt werden wann die Kalender genau lieferbar sind. Wenn Sie Fragen zu der Kalender haben, sich interessieren ein Mondmonat-Kalender zu kaufen, rufen Sie bitte an unter Tel./AB 09543 - 41 88 54 oder schreiben Sie einen E-Mail an cosmaterraccc@posteo.de. sodass ich Ihre Fragen beantworten kann, Ihre Lieferadresse(en) bekommen kann.

Für Menschen, den die Erde, den Mond und die Natur lieben und ihr Leben nach diesen natürlichen Rhythmen, mit den Phasen und Zyklen des natürlichen Tages, des Mondmonats und der Jahreszeiten leben möchten. In diesem Kalender stehen die Mondzyklen, was die natürlichen Mondmonate sind, mit ihren zwei zunehmenden und abnehmenden Hälften (die "vierzehn Tage" oder natürlichen Wochen) und mit den acht Mondphasen im Vordergrund. Es gibt für jeden Mondmonat zwei Zeitleisten für den ersten Tage von den zunehmende und abnehmende Mondmonatshälfte mit den Stunden, natürlichen Tageslichtaufteilungesn eines Tages, sowie Tagesphasen. Ebenso werden die Jahreszeiten Winter, Frühling, Herbst und Sommer und ihre Drittel (die auch als Sternzeichenphasen bezeichnet werden) durch Farbcodierung der entsprechenden Elemente davon hervorgehoben.
Was die meisten Menschen nicht erkennen, ist, dass die Sternzeichenphasen genau astronomisch mit dem Beginn der Jahreszeiten und ihren Dritteln übereinstimmen. Zum Beispiel ist der Beginn des Winters genau das gleiche Anfangsdatum und die gleiche Uhrzeit des Beginns der Steinbock-Sternzeichenphase. Der Beginn des Frühlings ist das genaue Datum und die Uhrzeit des Beginns der Widder-Sternzeichenphase, usw.
Mit Schwerpunkt auf den natürlichen Mondmonaten im Jahr 2021 und in den meisten Jahren sind dies 13 Mondmonate. Jeder Mondmonat enthält einen Begleittext über die jeweiligen Tageszeiten, welche Mondphase und welche Tage in einem natürlichen Monat die stärksten Energien für diesen Zeitraum im Jahr sind.

Der Kalender hilft dem Menschen, in ein natürlicheres Lebensmuster zu gelangen, anders als es mit dem typisch verwendete Gregorianische Kalender ist. Obwohl der Gregorianischen Kalender für eine standardisierte globale Methode zur Zeitmessung gut ist, stimmt er größtenteils nicht mit den natürlichen und unterschiedlicheren Lebensrhythmen überein. Der Mondmonatskalender enthält beide Zeitmessmethoden. Was bei den natürlichen Rhythmen des Lebens, des natürlichen Jahres, des Mondmonats und des Tages klar und interessant auffällt, ist, dass sie jeweils eine zunehmende und abnehmende Hälfte haben. In den zunehmende Jahres-, Mondmonats- und Tageshälften nehmen die Energien zu, sind auf äußeren Austausch und Aktivitäten gerichtet, sowie höhere Energieverausgabung. In den abnehmenden Hälften des Jahres, des Mondmonats und die Tage sind die Energien innerlicher gebündelt und richten sich mehr natürlich auf innere Prozesse wie Aufmerksamkeit, Erkennung, Verarbeitung, Sortierung, Heilung, Erkenntnis, Einsicht, Meditation und Gebet. Mit diesen zunehmenden und abnehmenden Halbzyklusqualitäten eines jeden natürlichen Jahres, Monats und Tages gibt es vom Schöpfer und von Natur aus ein NATÜRLICHES LANGSAMES LEBEN oder sog. SLOW LIFE und keinen so übertriebenen Weg der stetig andauernde Leistung und Produktivität, wie ihn der Mensch in den letzten hundert Jahren zunehmend verfolgt. Die menschlichen Lebensmuster, in denen eine Steigerung oder gleiche Leistung, Produktivität andauernd verfolgt wird den größten Teil eines jeden Tages, Monats und Jahres, tragen dazu bei dass Menschen in sich selbst unharmonisch sind und in Disharmonie miteinander, mit der Natur und dem Leben an sich stehen. Übertriebene, unnatürlichen Leistung, Produktivität sind mit verursachen Faktoren für Zustände in Menschen wie Erschöpfung, Burnout, Erkrankungen, Krankheit auf allen Ebenen (physisch, emotional, mental, spiritual), mangelndes Bewusstsein, zwischenmenschliche und soziale sowie ökologische Disharmonie und Trennung. Ein Kalender und ein Leben, das auf natürlichen Rhythmen basiert, tragen daher auch zur NACHHALTIGKEIT VON MENSCHEN bei!
Der Kalender hat ein attraktives Design, leicht verständliche Grafiken. Auf nachfrage erhalten Sie Musterseiten sowie eine erläuternde Broschüre per E-Mail.

BESTELLUNGS & BEZAHLUNGSINFORMATION
Wenn Sie eine Mondmonat-Kalender bestellen möchten, ist es möglich bei cosma terra ccc in dem Sie unter der Tel./AB 09543 - 41 88 54 anrufen oder einen E-Mail an cosmaterraccc@posteo.de senden. Wann die Kalender zu verfügung stehen für Lieferung, dann werden Sie benachrichtigt sodass Sie Ihre Liferadresse durchgeben können, auch werden Sie um einen Vorbezahlung gebeten. Der Vorbezahlung kann gemacht werden entweder durch einen Banküberweisung oder durch paypal, wie unten gelistet.

Die Post, Versandpreise sind etwas mehr als vorher weil die Kalender Ausgabe für 2021 etwas großer ist:
Der Preis eines Mondmonat-Kalender für 2021 ist 15,90 €, ohne MwSt.. aufgrund der Kleinunternehmer Regelung in BRD.

Für Versand per Post + 2,70 € für in BRD (bis zu 2 Kalender für 2,70 € Kombiversand)
Für Europaweit (EC Länder*) muss ist der Einzel- sowie Kombiversand (für bis zu 2 Kalender) zuerst erkundet werden.
*Die Europäische Union Länder sind:
Belgien, Deutschland, Frankreich, Italien, Luxemburg, Niederland, Dänemark, Irland,
Griechenland, Portugal, Spanien
Um die genaue Versandkosten für den Vereinigtes Königreich, sowie für alle andere Länder zu erfahren, bitte nachfragen.


Bestellungskostenbeispiele:
Für eine Kalender, es kostet zur Neupreis 15,90 € + Versand innerhalb Deutschland ist 2,70 € = 18,60 €
Für zwei Kalender (2 x 15.90 €) ist 31,80 € + kombinierten Versandkosten für LIeferung zur gleichen Adresse in Deutschland ist 2,70 € = 34,50 €.
Für ein Kalender + Versandkosten zu jeder andere EC Land ausserhalb Germany muss der Versandpreis erst erkundet werden.

Für Mondmonat-Kalender Bestellung für alle Länder ausserhalb der EC, bitte individuell nachfragen!
Bezahlung per Überweisung an:
Carolyn Czichos - cosma terra
"Mondmonat-Kalender 2019"
Sparkasse Bamberg
IBAN: DE07 7705 0000 0300 4210 70
BIC: BYLADEM1SKB
für Bezahlung durch PayPal: PayPal.Me/cosmaterraccc

Carolyn C. Czichos – cosma terra ccc, Steuer Nr. 207/209/61459.
Die Umsatzsteuer wird aufgrund des Kleinunternehmerstatus gem. § 19 UstG nicht erhoben.
Vielen Dank an unser Graphik Layout & Druck Engel für viele Jahren, seit 2010 für die Mondmonat-Kalender, Herr Klaus Sanden, SK Verlag Klaus Sanden, Lange Straße 21, 96047 Bamberg, Telefon 0951-980 95 50. Fax 0951 - 980 95 55. Mail: sk.verlag@t-online.de.

© 2021 cosma terra C. C. Czichos, last update March 2021