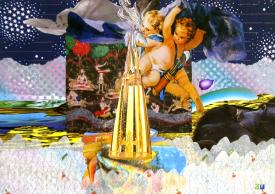 Heavenly Ladder Revelation, Collage 2013
WELCOME TO THE
COSMA TERRA CCC INTERNET SITE (Deutsch unten)

COSMA TERRA CCC is about creative expression, promotion of spiritual awareness and intuitive experience of the subtle spiritual life behind physical appearances.
COSMA TERRA CCC is Art & More...
∗ Art - Collage Art, Collage Mandalas, Collage Tile Art & Designs, Nature Photography, Light Art with Candles
∗ Design with Minerals & Nature - Semiprecious and Precious Stone Jewelry, Prayer Beads & Energy Objects; Design with Nature for Stone Circles, The Medicine Wheel or Year Circle, Design of Meditation Paths & Meditation Places, Temples

∗ Nature Perception & Connection Tours, Geomantic Evaluations - Country and City Tours for Relaxation, Recouperation, inner Peace, Harmony, also on Nature, Landscape and Community or City Angels, on Sacred Sites and Landscape Energy Systems, Geomantic Evaluations of Communities, Places, Buildings, Objects

∗ Publications - Moon Month Calendar on Natural Rhythms & Natural Time, 2020 is the 10th Year Anniversary Issue!, Holistic Life Information, Belletristic Poems, Stories
∗ Natural Song, Music - Songs & Singing, Mantras with Nature, Angels, with God in All

∗ Holistic Life & Lifestyle Advising, Instruction, Self-Harmonisation - Self Perception for Self-Knowledge & Self-Sustainability of Humans, Multidimensional Perception of the World, Self-Harmonisation through Prayer & Meditation with Higher Self, God & Angel Connections

WILKOMMEN AUF DER
COSMA TERRA CCC INTERNETSEITE
COSMA TERRA CCC hat zu tun mit kreative Ausdruck davon, unterstützung von spirituelle Bewusstsein und intuitiver Erfahrung von dem unsichtbare spirituelle Leben verborgen hinter alle physische Erscheinungen.
COSMA TERRA CCC ist Kunst & Mehr...
∗ Kunst - Collage Kunst, Collage Mandalas, Collage Fliesen Kunst & Gestaltungen, Natur-Fotografie, Lichtkunst mit Kerzen
∗ Gestaltung mit Mineralien & Natur - Halb- & Edelstein Schmuck, Gebetsketten & Energieobjekte; Steinkreise, Medizineräder oder Jahreskreise, Meditationswege & Meditationsplätze, Tempel

∗ Naturwahrnehmung, Naturverbindung Führungen, Geomantische Auswertungen - Land & Stadt Führungen für Entspannung, Erholung, inneres Frieden, Harmonie, auch über Natur-, Landschafts- und Stadtengel, sowie über Kraftplätze und Landschaftsenergiesystems, Geomantische Auswertungen von Ortschaften, Gebauden, Plätze, Objekte

∗ Veröffentlichungen - Mondmonat-Kalendar über Naturrhythmen & Naturzeit, 2020 ist der 10-Jähriges Jubiliäums Ausgabe!, Ganzheitliche Lebensinformationen, Belletristische Gedichten, Geschichten
∗ Naturliches Gesang, Musik - Lieder & Gesang, Mantras mit Natur, Engel, mit Gott in Alles

∗ Ganzheitliche Lebens- & Lebensstilberatung, Unterricht, Selbstharmonisation - Selbstwahrnehmung zur Selbstkenntnis & Selbsterhaltung, Nachhaltigkeit von Menschen, Multidimensionale Wahrnehmung von der Welt, Selbst-Harmonisation durch Gebet & Meditation mit Höheres Selbst, Gott & Engel Verbindungen

Background artwork "Kwan Yin" collage tile mandala by cosma terra ccc, © 2020 cosma terra C. C. Czichos, last update January 2020