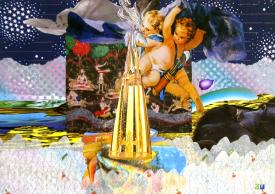 Heavenly Ladder Revelation, Collage 2013
WELCOME TO THE
COSMA TERRA CCC INTERNET SITE (für die Deutsch sprachige Versionen, siehe bitte unten)

COSMA TERRA CCC is Art & More... is about support for Earthkind towards revelation of the holistic-spiritual, multidimensional superordinate consciousnes existence and workings in and of all.
All inquiries are welcome. However, due to multiple challenges in my current personal situation and with the virus-situation, until further notice here, my services at this time are not really available.
∗ Art - Collage, Light Art & Nature Photography
∗ Design with Minerals & Nature - Stone Beads Jewelry; Design, Realisation and Use of Landart, Stone Circles, The Medicine Wheel or Natural Time Circle; Design of Meditation Paths & Meditation Places; Design of Temples for Quietness, Meditation, and Prayer

∗ Nature Perception & Connection Tours in Nature or Cities, Geomantic Evaluations - Nature and City Tours for Well-being, about Sacred Sites, Angels of Nature and of Communities; Geomantic Evaluations of Objects, Living Quarters, Buildings, Places, Communities or Regions, ...

∗ Publications - Moon Month Calendar on Natural Rhythms & Natural Time, 2020 was the 10th Year Anniversary Issue; Information Publications on various approaches and ways for a Holistic Life Approach; Belletristic Stories and Poems

∗ Natural Song, Music - spiritual, meditative Songs, Mantras, Singing, Circle Dances with Nature, Angels, with the Godly in All

∗ Holistic Life & Lifestyle Advising, Assistance, Instruction towards Human, Groups, Places Perception-Knowledge-Harmonisation-Sustainability - Multidimensional Perception of Persons, Groups and Situations towards Individual Understanding, Decisions, Suitable Solutions and Sustainability, Multidimensional Psychic and Medial Perception of the Self, the Other and the World; Human Cooperation with the Inner Life of Creation and Angels for Best-Potential Life on Earth

WILKOMMEN AUF DER
COSMA TERRA CCC INTERNETSEITE
COSMA TERRA CCC ist Kunst & Mehr... hat zu tun mit Unterstützung der Erdheit hin zur Offenbarung des holistisch-spirituellen, multidimensionalen übergeordneten Bewusstseins Existenz und Wirkung in und von allem.
Alle Nachfragen sind wilkommen. Aber auf Grund von mehrfachen persönlichen Herausförderungen zu dieser Zeit und mit den Virus-Situation, bis auf weitere Benachrichtigung hier, sind meine Angebote zu dieser Zeit nicht wirklich möglich.

COSMA TERRA CCC
∗ Kunst - Collage, Kerzenlicht Lichtkunst, & Natur-Fotografie
∗ Gestaltung mit Mineralien & Natur - Stein Schmuck; Gestaltung und Gebrauch von Steinkreise, Medizineräder oder Jahreskreise; Entwurf von Meditationsplätze Meditationswege & Tempel für Stille, Meditation & Gebet

∗ Naturwahrnehmung, Naturverbindung Führungen, Geomantische Auswertungen - zur Wohlergehen, über Kraftplätze, über Naturengel sowie Engel von Städte und Gemeinschaften; Geomantische Auswertungen von Ortschaften, Wohnungen, Gebauden, Plätze, Objekte

∗ Veröffentlichungen - Mondmonat-Kalendar über Naturrhythmen & Naturzeit, 2020 war der 10-Jähriges Jubiliäums Ausgabe; versch. Informationsschreiben über Ganzheitliche Lebenansichten und -wege; Belletristische Gedichten, Geschichten
∗ Naturliches Gesang, Musik - spirituelle, meditative Lieder, Mantras & Gesang mit Natur, Engel, mit das Göttliche in Alles

∗ Ganzheitliche Lebens- & Lebensstilberatung, Unterstützung, Unterricht zur Selbst- und Erdwelt-Harmonisatie - Mehrdimensionale Wahrnehmung von Personen, Gruppen und Situationen zu individuellem Verstehen, Entscheiden, passenden Lösungen und Nachhaltigkeit, mehrdimensionale überbinnliche und mediale Wahrnehmung des Selbst, des Anderen und der Welt; Menschliche Zusammenarbeit mit dem inneren Leben der Schöpfung und Engeln für bestmögliches Leben auf der Erde.

Background artwork "Kwan Yin" collage tile mandala by cosma terra ccc, © 2023 cosma terra C. C. Czichos, last update Feb. 2023