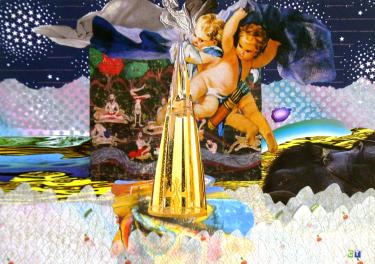 Heavenly Ladder Revelation, Collage 2013
WELCOME TO THE
COSMA TERRA CCC INTERNET SITE
COSMA TERRA CCC is about the spiritual life hidden behind physical appearances.
COSMA TERRA CCC is Art & More...
∗ Collage Art, Collage Mandalas, Collage Tile Art & Designs
∗ Photography
∗ Light Art with Candles
∗ Belletristic Stories
∗ Moon Month Calendar, Natural Life Rhythms & Time
∗ Design with Minerals, Semiprecious and Precious Stone Jewelry, Prayer Beads & Energy Objects
∗ Design with Nature for Stone Circles, The Medicine Wheel or Year Circle, Meditation Paths & Meditation Places, Temples

∗ Natural Music, Songs & Singing with Nature & Angels
∗ Holistic Life & Lifestyle Advising, Self Perception & Sustainability, Multidimensional Perception
∗ Harmonisation through Energy Work, Prayer & Meditation, Higher Self, Angelic & God Connection

∗ Nature Perception, Geomancy, Evaluations & Tours
WILKOMMEN AUF DER
COSMA TERRA CCC INTERNETSEITE
COSMA TERRA CCC hat zu tun mit das spirituelle Leben, verborgen hinter alle physische Erscheinungen.
COSMA TERRA CCC ist Kunst & Mehr...
∗ Collage Kunst, Collage Mandalas, Collage Fliesen Kunst & Gestaltungen
∗ Fotografie
∗ Lichtkunst mit Kerzen
∗ Belletristische Geschichten

∗ Mondmonat-Kalender, Naturrhythmen & Naturzeit
∗ Gestaltung mit Mineralien, Halb- & Edelstein Schmuck, Gebetsketten & Energieobjekte
∗ Gestaltung mit Natur für Steinkreise, Medizineräder oder Jahreskreise, Meditationswege & Meditationsplätze, Tempel

∗ Naturliches Musik, Lieder & Gesang mit Natur & Engel
∗ Ganzheitliche Lebens- & Lebensstilberatung, Selbstwahrnehmung & Erhaltung, Multidimensionale Wahrnehmung
∗ Harmonization durch Energiearbeit, Gebet & Meditation, Höheres Selbst, Engel & Gott Verbindung
∗ Naturwahrnehmung, Geomantie, Auswertungen & Führungen
Background artwork "Kwan Yin" collage tile mandala by cosma terra ccc, © 2019 cosma terra C. C. Czichos, last update May 2019