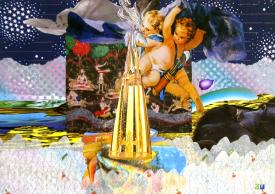 Heavenly Ladder Revelation, Collage 2013
WELCOME TO THE
COSMA TERRA CCC INTERNET SITE (für die Deutsch sprachige Versionen, siehe bitte unten)

COSMA TERRA CCC is Art & More... is about support for Earthkind towards revelation of the holistic-spiritual, multidimensional superordinate consciousnes existence and workings in and of all.
All inquiries for information or exchange on the topics of my personal, private or non-commercial activities described herein are welcome. My current status is in retirement for a yet undetermined period of time, also due to multiple challenges in my own and the world situation so that any services or items mentioned here are at this time only available on a private, voluntary basis and are not available on a public, commercial basis.
∗ Art - Collage, Light Art & Nature Photography
∗ Co-Creation with Minerals & Nature - Stone Beads Jewelry; Landart, Stone Circles, The Medicine Wheel or Natural Time Circle; Meditation Paths & Meditation Places; Temples for Quietness, Meditation, and Prayer

∗ Nature Perception & Connection in Nature or Cities, Geomantic Assessments - for Well-being, about Sacred Sites, Angels of Nature and of Communities; Geomantic Qualitieies and Characteristics of Objects, Living Quarters, Buildings, Places, Communities or Regions, ...

∗ Writing, Moon Month Calendar on Natural Rhythms & Natural Time - Information Texts on information and various approaches for a Holistic Life Style; Belletristic Stories and Poems

∗ Natural Song, Music - spiritual, meditative Songs, Mantras, Singing, Circle Dances with Nature, Angels, with the Godly in All

∗ Holistic Life & Lifestyle towards Human, Groups, Places Perception-Knowledge-Harmonisation-Sustainability - Multidimensional Perception of Persons, Groups and Situations towards Individual Understanding, Decisions, Suitable Solutions and Sustainability, Multidimensional Psychic and Medial Perception of the Self, the Other and the World; Human Cooperation with the Inner Life of Creation and Angels for Best-Potential Life on Earth

WILKOMMEN AUF DER
COSMA TERRA CCC INTERNETSEITE
COSMA TERRA CCC ist Kunst & Mehr... hat zu tun mit Unterstützung der Erdheit hin zur Offenbarung des holistisch-spirituellen, multidimensionalen übergeordneten Bewusstseins Existenz und Wirkung in und von allem.
Alle Nachfragen zur Information oder zur Austausch zu den hierin beschriebene Themen über meine private, nicht-commerzielle Aktivitäten sind wilkommen. Meine aktuelle Status ist dass ich auf unbestimmte Zeit in Ruhestand befinde auf Grund von mehrfachen persönlichen und weltliche Herausförderungen, bis auf weitere Benachrichtigung hier. Daher sind alle herein erwähnte Dienste oder Artikel nur auf private, freiwillige Basis und nicht auf öffentliche, kommerzielle Basis.

COSMA TERRA CCC
∗ Kunst - Collage, Kerzenlicht Lichtkunst, & Natur-Fotografie
∗ Mit-Gestaltung mit Mineralien & Natur - Stein Schmuck; Gestaltung und Gebrauch von Steinkreise, Medizineräder oder Jahreskreise; Meditationsplätze Meditationswege & Tempel für Stille, Meditation & Gebet

∗ Naturwahrnehmung, Naturverbindung, Geomantische Auswertungen - zur Wohlergehen, über Kraftplätze, über Naturengel sowie Engel von Städte und Gemeinschaften; Geomantische Auswertungen von Ortschaften, Wohnungen, Gebauden, Plätze, Objekte

∗ Schreiben - Mondmonat-, Naturrhythmen & Naturzeit Kalender, versch. Informationsschreiben über Ganzheitliche Lebenswege und -stil; Belletristische Gedichten, Geschichten
∗ Naturliches Gesang, Musik - spirituelle, meditative Lieder, Mantras & Gesang mit der Natur, Engel, mit das Göttliche in Alles

∗ Ganzheitliche Lebens- & Lebensstil zur Selbst und Erdwelt Wahrnehmung-Erkenntnisse-Harmonie-Nachhaltigkeit - Mehrdimensionale Wahrnehmung von Personen, Gruppen und Situationen zu individuellem Verstehen, Entscheiden, passenden Lösungen und Nachhaltigkeit, mehrdimensionale überbinnliche und mediale Wahrnehmung des Selbst, des Anderen und der Welt; Menschliche Zusammenarbeit mit dem inneren Leben der Schöpfung und Engeln für bestmögliches Leben auf der Erde.

Background artwork "Kwan Yin" collage tile mandala by cosma terra ccc, © 2023 cosma terra C. C. Czichos, last update Aug. 2023