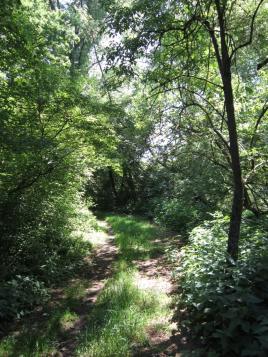 A Way Through the Forest / Ein Weg im Wald
A New Earthkind Journal (für in Deutscher Sprache, siehe bitte Unten)

I introduce to you a new Earthkind Journal, in which I relate my personal view of life, with my multi-dimensional perceptions of Planet Earth with its Moon . My view of Earth life includes a multidimensional skala from highest spiritual to most concentrated material matter, whcih are also what many people would consider to be the different areas of life. My view of Earth life includes what I call Kingdoms, (different types of beings I perceive here, like God, Angels, Humans, Animals, Plants, Minerals) and Elements of Earth, and a breakdown of specific geographic areas of the Earth. My understandings of the Earth life and Earthkind, (the planet with all of the kingdoms beings of it), which I call Earthkind, (as compared to what many call humankind, only considering humans), the dimensions and certain geographical divisions of it have been formed, informed through meditation, practical experience, learning, training, influences of a universal all-present consciousness as well as by angels.
For the first part of this journal I will be explaining terms of how I perceive what Earth life, what is included in that and then I will progress into my perceptions of goings on, developments in Earth life which I perceive. The goings on will be from my spiritual perspective and perceptions of what I consider to be the individual divine consciousness in all beings and creations here. My perceptions which I will express can have to to do with either what I understand to be the whole of the Earth-Moon or some part of that. Dimensional perception can be general and include all dimensions taken together or the perceptions of dimensions can be specific to one or a few of the dimensions.
Eine neue Erdheit Journal Ich stelle hier vor eine neue Erdheit Journal in dem ich teile mit meine persönlichen multi-dimensionale Wahrnehmungen von Planet Erde mit den Erdmond als eine Gesamtheit sowie über bestimmte geografische Gebiete von der Erde. Meine Verständnisse von den Erdheit, von den Aufteilungen davon, und die Dimensionen davon sind durch meditation, praktische Erfahrungen, und durch Einflusse von eine universelle all-präsente Bewusstsein und Engel enstanden. Der Grundorganisation von dieser Journal hat damit zu tun mit entweder die ganze Erd-Mond oder einen Anteil davon sowie davon aus welche Dimensionen von mir wahrgenommen werden. Die dimensionale Wahrnehmungen können generell sein und beinhalten alle Dimensionen zusammen genommen, oder die Wahrnehmungen können von einzelnen der Dimensionen. Es folgen zwei Listen, eins von der Anteile von der Erdheit sowie eins von den davon von mir wahrgenommene Dimensionen.

THE WHOLE AND THE PARTS The whole is meant to be all of Planet Earth with its Moon. Here are the most basic naturally occuring subdivisions of the parts of Planet Earth. / Das Ganze und den Anteile Mit dem Ganze meine ich alles von Planet Erde mit seine Mond. Hier folgen die grundlegendste natürlich vorkommende Anteil von den Planet Erde.

the continents (still to be completed) - Asia, Africa, Europe, Australia, North America, South America, Antarctica and Greenland / die Kontinente - Asia, Afrika, Europa, Australien, Nordamerika, Sudamerika, Antartika, Grönland

the oceans, including any islands or other smaller land masses within these oceans (still to be completed) - the Atlantic Ocean, Arctic Ocean, Indian Ocean, Pacific Ocean, and the proposed Southern Ocean and ocean round the Antarctic. / die Ozeane - Altantik Ozean, Arktik Ozean, Indisches Ozean, Pazifisches Ozean

THE DIMENSIONS or LEVELS The Dimensions of the creation and existence of Earthkind I will be perceiving and describing are those following that I have come to know over many years through meditation and perception. These dimensions show themselves to me and have been confirmed to me from my human perceptions for my advising work and from my learning, practising and instructing about Earth energies, geomancy and nature connection. These dimensions may vary from other peoples lists of dimensions and are the dimensions which I personally find to be the most real and practical.
DIE DIMENSIONEN oder Ebenen Die Dimensionen von der Erschaffung und Existence von die Erdheit werde ich wahrnehmen und beschreiben. Diese folgen unten und habe ich über sehr viele Jahre durch Meditation sowie durch praktische Wahrnehmung erfahren. Diese Dimensionen habe ich wahrgenommen und sind mir immer wieder bestätigt von meine Wahrnehmungen von Menschen für meine Arbeit mit Beratungen sowie habe ich wahrgenommen und sind mir immer wieder bestätigt von meine Wahrnehmungen von den Planet und die Natur hier. Meine Wahrnehmungen von diese Dimensionen erlebee ich auch seit Jahren in meine Meditaitonzeiten.
the supra spiritual or overlighting all universal spiritual

/

der super oder übergeordneten, all universelle spirituelle Ebene



the individual spiritual, or individual God nature of all beings and things

/

die individuelle spirituelle Art von alle Wesen und Dinge



the mental or causal

/ das Mentale oder Causale



will, sound and communication

/ Wille, Klang oder Kommunikation



the connectional, all connections and relationship existing for me in four subdivisions: largest or larger groups like the or a collective and collective sub-groups; smaller groups like families; one-to-one; connection, relationship to self, self-love and sustainability of the own being

/

das Verbindende, alle Verbindungen und Beziehungen die für mich existieren in vier Unterteilungen: die größte Gruppen wie die oder eine Kollektive und Kollektiv Untergruppen; kleineren Gruppen; Eins-zu-Eins; und, Selbstliebe und -erhaltung oder -nachhaltigkeit von den eigene Wesen
the individual, unique traits of any one or one type of being or thing / das Individuelle, die einmnallige, individuelle Eigenschaft von jegliche eine oder einen Typ von Wesen oder Ding
the emotional, feelings and emotions / das emotionelle, Gefühle und Emotionen

the physical, the physical, biological

/ das physische, das Physische, Biologische

the material, material matter

/ das Materielle, die Materie
© 2020 C. C. Czichos, last update May 2020