BELLES LETTRES STORIES, ILLUSTRATED STORIES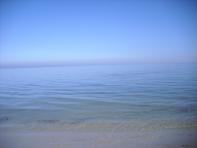 I FOLLOW THE WATER

The Novella "I Follow the Water" was first introduced with a short author reading at the opening on the 21st of March of an art exhibition from the 20th of March to the 23rd of April, 2015 in the City Hall of the Township of Hirschaid.
Here is a small reading sample from "I Follow the Water":
.11.
F I S Fish H I N
T H E in the Hand H A N D
I figured out that I had picked up the habit of having the company of certain fishes from people I have been with a long time ago. For many years I lived with a mean and ugly woman, who introduced me to sharks and clown fishes. A silly, but kind and underhanded man, at the same time, introduced me to eels and cow fishes. I got used to these people's fishes and I hung out with their types of fishes too, even though I didn't like them. The sharks and eels used to scare the hell out of me. I would often avoid water at all because of them. I couldn't even stand to see a picture of sharks or eels. The clown and cow fishes kept me distracted, sometimes entertained, but mostly frustrated.
It's not that I never wanted to get rid of the fishes I didn't like. Well, at first I just assumed everyone had fishes like I had. Then I noticed that other people had nicer fishes, and then I realised how grotesquely out of hand and outrageous mine were. Sometimes, I would try really hard to get rid of all of them, all of the unpleasant and stupid fishes, which were all I ever had in my waters at home. I would try flushing, and draining, and chemical pipe cleaners. A few times I tried to secretly dump them in lakes, or ponds, or if they were small enough, in tanks at the local pet shop. but as soon as I had left and someone else saw them, they would talk and say where they lived, and the next morning I'd find them in little air- and water-filled bags on my front door step.
BELLESTRIK, ILLUSTRIERTE GESCHICHTEN
ICH FOLGE DEM WASSER
Der Novelle "Ich Folge dem Wasser" wurde erstmals mit eine kurze Autorenlesung vorgestellt bei der Vernissage am 21. März, 2015 für einer Kunstausstellung in der Rathaus von Hirschaid von 20. März bis 23. April 2015.
Hier ist ein kleine Leseprobe von "Ich Folge dem Wasser":
.11.
F I S FisCh H I N
D E R in der Hand A N D
Ich habe herausgefunden, dass ich irgendwann angefangen habe, die Gesellschaft von bestimmten Fischen zu haben, Fische von Menschen, mit denen ich vor langer Zeit zusammen war. Viele Jahre lang lebte ich mit einer gemeinen, lustigen und hässlichen Frau, die mich mit Haien und Clownfischen bekannt gemacht hat. Zur gleichen Zeit hat mich ein alberner, aber warmherziger und hinterhältiger Mann mit Aalen und Kuhfischen bekannt gemacht. Ich hatte mich an die Fische dieser Leute gewöhnt, und ich gesellte mich zu dieser Art von Fischen, obwohl ich sie nicht möchte. Die Haie und Aale hatten mir früher eine Teufelsangst eingejagt. Ich habe oft Wasser überhaupt vermeiden wegen solcher Fische. Ich könnte es überhaupt nicht aushalten, Bilder von solchen Fischen anzuschauen. Die Clown- und Kuhfische haben mich eher abgelenkt, und manchmal haben sie mich amüsiert oder unterhalten, aber meistens frustrierten sie mich.
Es ist nicht so, dass ich die Fische, die ich nicht mochte, nicht loswerden wollte. Manchmal habe ich mich sehr bemüht, sie alle wegzukriegen, all die unangenehmen und blöden Fische, die einzige Art, die ich jemals in meinen Gewässern daheim hatte. Ich versucht es mit Spülen, Entwässern und mit chemischen Abflussrohreinigungsmitteln….. Ein paar Mal habe ich versucht, sie insgeheim in Seen oder Teichen oder – wenn sie klein genug waren – in Aquarien eines Zoogeschäfts abzuladen. Aber sobald ich wegging und jemand anderes vorbeikam, fingen die Fische an zu reden und haben gesagt, wo sie wirklich wohnen. Am nächsten Tag in der Früh fand ich sie dann alle an meinem Wohnungseingang wieder, einzelne in kleinen mit Luft und Wasser gefüllten Plastiktütchen.
STORY COLLAGES / GESCHICHTEN COLLAGE

© 2019 cosma terra C. C. Czichos, last update August 2019